25 June 2020
With the recent announcement from the WA State Government that we will move to Phase 4 of the COVID-19 WA Roadmap from Saturday 27 June, we are pleased to announce some further changes to our conditions for golf and our food and beverage services.  The further relaxation of restrictions will allow more people access to our golf course and increase the number of patrons who can enjoy our Collier Cafe.
CHANGES TO GOLF AND CART HIRE
Motorised carts can be shared between 2 people, $46 for 18 holes, $36 for 9 holes
Effective from Thursday 11 June 2020:
The interval between tee times will be reduced to 8 minutes (from 10 minutes)
This will allow for additional 9 hole and 18 hole rounds to be made available
BOOKINGS are still required. No walk-ins please!
Online booking sheets will be opened 8 days prior at 12 noon as per the current schedule
First tee time is 7.30am, last is 2.30pm
The course will close at 5.00pm
Effective from Monday 29 June 2020:
Twilight Golf will return, in a format that allows us to manage social distancing.  You can play as many holes as you can before the course closes!
Booking is required (online preferred)
Limited timeslots will be available off 2 tees – 3.00, 3.08, 3.16, 3.24 and 3.32pm
Timesheets will open at 12 noon the day prior ie. the first sheet will open on Sunday 28 June at 12.00pm
The course will close at 5.oopm
To BOOK ONLINE for golf CLICK HERE
---
CHANGES TO FOOD & BEVERAGE SERVICE
Effective from Saturday 6 June 2020:
Both the indoor and outdoor sections of our Collier Cafe will be open for consumption of food and drinks, including the purchase of alcoholic beverages  ie. you will be able to enjoy a beer after your round!
The 4 square metre rule has been revised to 2 square metres, allowing the number of patrons in each area to increase
Social distancing is strictly required and will be monitored in both sections of our Cafe
And remember that Collier Cafe has a new a la carte menu that you will be able to order from in both the indoor and outdoor alfresco areas.  To view the full menu CLICK HERE.
---
SOCIAL DISTANCING

You've done so well so far and been so supportive.  Whilst this latest relaxation to restrictions allows us to offer you more, in order for us to stay open, it's imperative that we continue to socially distance to protect ourselves and the community.
At all times and in all locations across the venue, you must maintain social distancing (1.5m)
Avoid all bodily contact, including no handshaking or sharing of score cards
Remember, if you can touch your mate with a driver, you're too close!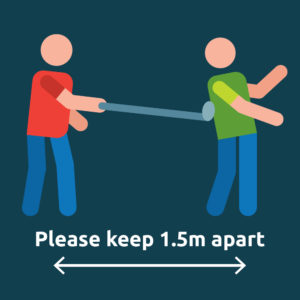 We hope to see you soon!
The Team at Collier Park Golf