//= $featured_image = get_post_thumbnail_id() ? wp_get_attachment_image( get_post_thumbnail_id(), 'full-size', false ) : '' ?>
Meet Harry – Collier Park Café's Souper Hero
Posted on July 8, 2022
Collier Park Golf Course is well-known for being a community hub for golfers located in the heart of South Perth; boasting a picturesque 27-hole golf course, amazing practice facilities and the home to Perth's newest fully licensed mini golf course.
If that wasn't enough, amongst all of that might be our best attraction – Collier Café. Situated within the stunning Collier Park Golf grounds, our café is open seven days a week from dawn to dusk; featuring the most delicious menu items ranging from fresh sandwiches and wraps, to house made pizzas, burgers, soups, desserts, a scrumptious breakfast range, and so much more!
Collier Café continues to set the standard for recreation hospitality and that is thanks to Lead Chef Harry Nijsen and his amazing team. 
During the week we sat down with Harry to learn more about his background, what he loves about working at Collier Park and what life is like outside of the kitchen.
What did you do before working at Collier Park?
In my previous role, I worked at St. John of God Murdoch hospital for five years. While there, we changed the system from a pre-select menu system to an à la carte kitchen service. It really was a great turnaround that was probably outdated and needed a change for a long time.
I have been a qualified chef since 2007 after finishing culinary school. I then spent some time over in Europe and the UK. This provided me with the ability to work in a broad spectrum of environments in which I definitely feel is important for you as a chef as you get that experience and to understand the hospitality industry to the best of your ability.
What does a typical day in the life of the Lead Chef at Collier Park look like?
As Lead Chef, I'm here four days a week and I try to hit the ground running every day. I like to be in here early before the sun rises as I find that's when I'm most productive.
In the morning I am setting up the kitchen and really just getting my environment ready for a productive day. Then it's straight onto getting all the hot food ready to go, because as soon as we open customers are able to order straight away. 
As soon as that's underway, I've got cake and muffins on the go. I try to get all my baking done as there is nothing better than smelling fresh baked goods in the morning!
Do you have a favourite dish that you enjoy preparing the most?
Yeah, I love our steak sandwiches. I think any steak sandwich for me is just great. But equally, I think for me, I really enjoy the effort that goes into making cakes. We've got a gluten free Tunisian Orange cake on our menu with a bit of spice in it and it's very popular. Every time I make two or three, within a few days, they're sold out!
What do you enjoy most about working here at Collier Park?
The scenery. I love golf and there couldn't be anywhere better than looking around our venue. 
We've got a great view from the inside area at the café, down the eighth, and with the view down the first hole on the lake. You've got these two beautiful views, so when you walk out in the veggie garden you can see people teeing off. When you love the game, it's just that joyful sound that you hear that I love (whether or not the ball stays on the fairways).
Can you tell us a little bit more about yourself and what life is like for you outside of work?
Aside from work, I love being active. I love playing golf when I can. I love the history of golf and I've recently purchased some hickory clubs, however I am yet to go out and actually play with them.
I love cooking at home and I love entertaining. I like to be hospitable which I think comes from a history of this in our family. Every single Saturday morning for as long as I can remember growing up, we would be at my grandmother's house. There'd be 20 of us and friends of the family that would pop in as well. It was literally drip coffee on the go all day from 8am through to lunch.
People would be sitting around eating coffee and cake and just catching up on the events of the week. So, that's where my love for entertainment comes from and it has definitely flowed into my life.
I love my family time. I am married and have a little 20-month-old who I love to bits named Arnold (named after Arnold Palmer). Apart from that I do a bit of rock climbing. I also love movies and music, in particular jazz and blues. I also just enjoy catching up with friends and family; that's a big priority for me in my life. And then church on Sunday is our family day.
I'm also an accredited sports chaplain, through SCA – Sports Chaplaincy Australia. I love the work we do and I'm incredibly proud to be associated and work with this organization.
You mentioned previously your love for golf. When did your interest start and do you play often?
I started dabbling with golf during my later teens around 2005, but I didn't actually take up the sport till my mid 20's. So maybe eight to ten years I've been playing.
I try to get a cheeky nine in once a fortnight at Collier Park. I enjoy the first and ninth holes on the lakes course and I love the fifth as I like hitting over the lake.
Across our Clublinks venues we're aiming to be more of a community hub and a venue for all people to come in and enjoy the offerings, not just golfers. How have you experienced this during your time at Collier Park?
Recently I was chatting with people at our church and we were just talking about the café here and its offerings. Obviously, we mentioned breakfast but we also have an all-day menu which is a great service.
There's definitely potential for our café to be better utilised by the local public because I believe we have a great breakfast menu. It's not a massive menu, because at the end of the day, our primary purpose is to service the needs of the golfers and t0 look after them. But equally, it's a great spot to come to even if you don't play golf!
I feel like on a Saturday morning there's a bit of a vibe around the course. You've got people coming in for mini golf and families coming in for lessons and it's a really good atmosphere; just seeing the parents supporting their kids and that next generation of golf that's coming through.
I think as time moves on we will see more people in the local community coming in. We've got great offerings here, especially the indoor area which is nice and toasty and warm during winter. And like I said, you've got those two nice aspects of looking down the fairways from the tee boxes which is a great place to enjoy if you're a golfer, or even a non-golfer it's a nice place to sit down and have breakfast.
I know Peter, our superintendent and yourself have been working together around the garden that we have. Am I right in saying some of the products that we sell use ingredients from this garden?
Yeah, totally. We're actually sitting right next to a Kaffir lime tree, which is great for its leaves coming into winter when we make green curry.
We also have lettuce, parsley, squash, and basil which we turn into pesto. We've got a mix of lettuce, rainbow chard in there at the moment which gets used in the salad. The leaves can be used as well in the morning on the breakfast items. We also have cherry tomatoes growing, as well as zucchinis, carrots, and root vegetables which we've been using for soups.
It's a real asset having Peter come along and planting the seedlings, because then we get the opportunity to harvest them and really put it back into the kitchen and into the food that we create.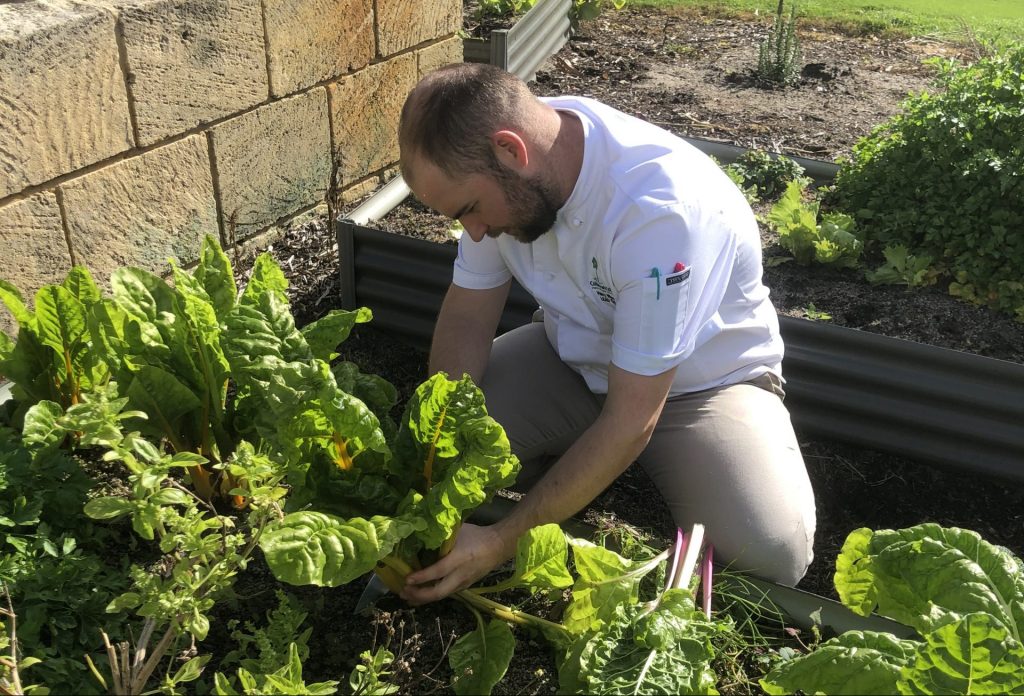 Can you tell us about the team you have working with you in the kitchen?
Yeah so we have a couple of chefs in the kitchen. Chrystia is a newly qualified chef fresh out of TAFE who we took on at the end of last year. Chrystia is amazing, she's my go to. Always so calm and collected in the kitchen and she handles pressure really well.
I love being able to teach that next generation of chefs to hone their skills, learn new techniques and to just be alongside them and mentor them, which I think is really important.
We've got another member, Jean – who we hired through an organisation called Maxima, which I really love that we partner with this organization. Maxima is a return-to-work program for people that have been out of the workforce for an extended period. They've got the knowledge, it's just about helping them re-hone those skills and allowing them to feel comfortable.
I love to encourage people to be the best they can be. I think it's important to have good foundations in any career and if I can try to help foster those foundations, then I feel like I've done my job.
What does the future look like for Collier Café?
I'm really optimistic and excited about the future of the café here, in particular our hospitality offerings and future events. I have a couple of things in the works at the moment that will benefit the public that we will incorporate not only into our food offerings, but entertainment offerings as well so we can showcase what our team and this venue can do.